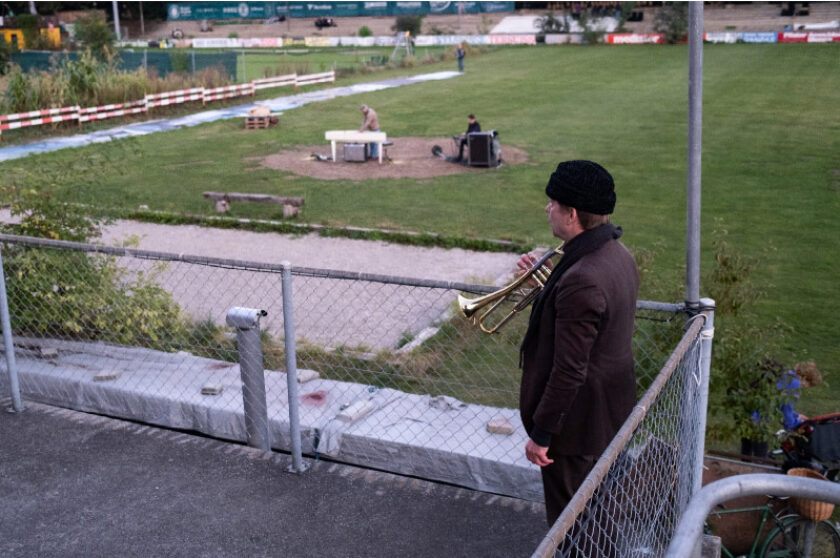 EN Bruit promotes sound activities based on improvisation, experimentation and interdisciplinarity. It is an association based in Biel/Bienne Switzerland and directed by the musicians Gaudenz Badrutt and Jonas Kocher. Depending on the projects, Badrutt & Kocher involve other musicians and artists in shaping the activities of the association as well as they are supported by the association's advisory board. Bruit realizes its programme through collaboration with local and international partners.
DE Bruit setzt Aktivitäten ins Zentrum, die auf Improvisation, klanglichem und musikalischem Experiment und Interdisziplinarität fokussieren. Der Verein Bruit mit Sitz in Biel/Bienne wird von den Musikern Gaudenz Badrutt und Jonas Kocher künstlerisch geleitet. Je nach Projekt binden sie weitere Musiker:innen und Künstler:innen in die Gestaltung der Vereinsaktivitäten ein und werden vom Vereinsvorstand beraten. Bruit arbeitet mit lokalen, nationalen und internationalen Partnerorganisationen zusammen.
FR Bruit met en avant les activités sonores basées sur l'improvisation, l'expérimentation et l'interdisciplinarité. C'est une association basée à Biel/Bienne en Suisse et dirigée par les musiciens Gaudenz Badrutt et Jonas Kocher. En fonction des projets ils intègrent d'autres musicien·ne·s et artistes et sont conseillés par le comité de l'association. Bruit investit des lieux divers pour la réalisation de ses activités et collabore avec des partenaires locaux et internationaux.
Association Bruit
rue du Milieu 16
CH-2502 Biel/Bienne
contact@bruit-asso.org

Find us on:
Facebook
YouTube
Bandcamp
Discogs
Artistic direction: Jonas Kocher & Gaudenz Badrutt
Poster design: Nayara Siler
Online presence: Ilia Belorukov
Sound engineer: Bojan Ugrinovsky
Administration, finance and fundraising: Charlotte Garbani, Claire Balbo, Tatjana Zimmermann, Hélène Burri (CULTURL)
Advisory board: Fabienne Bartel, Florian Eitel, Lucas Dubuis
Status of the association [french]